Adrak ka Capsules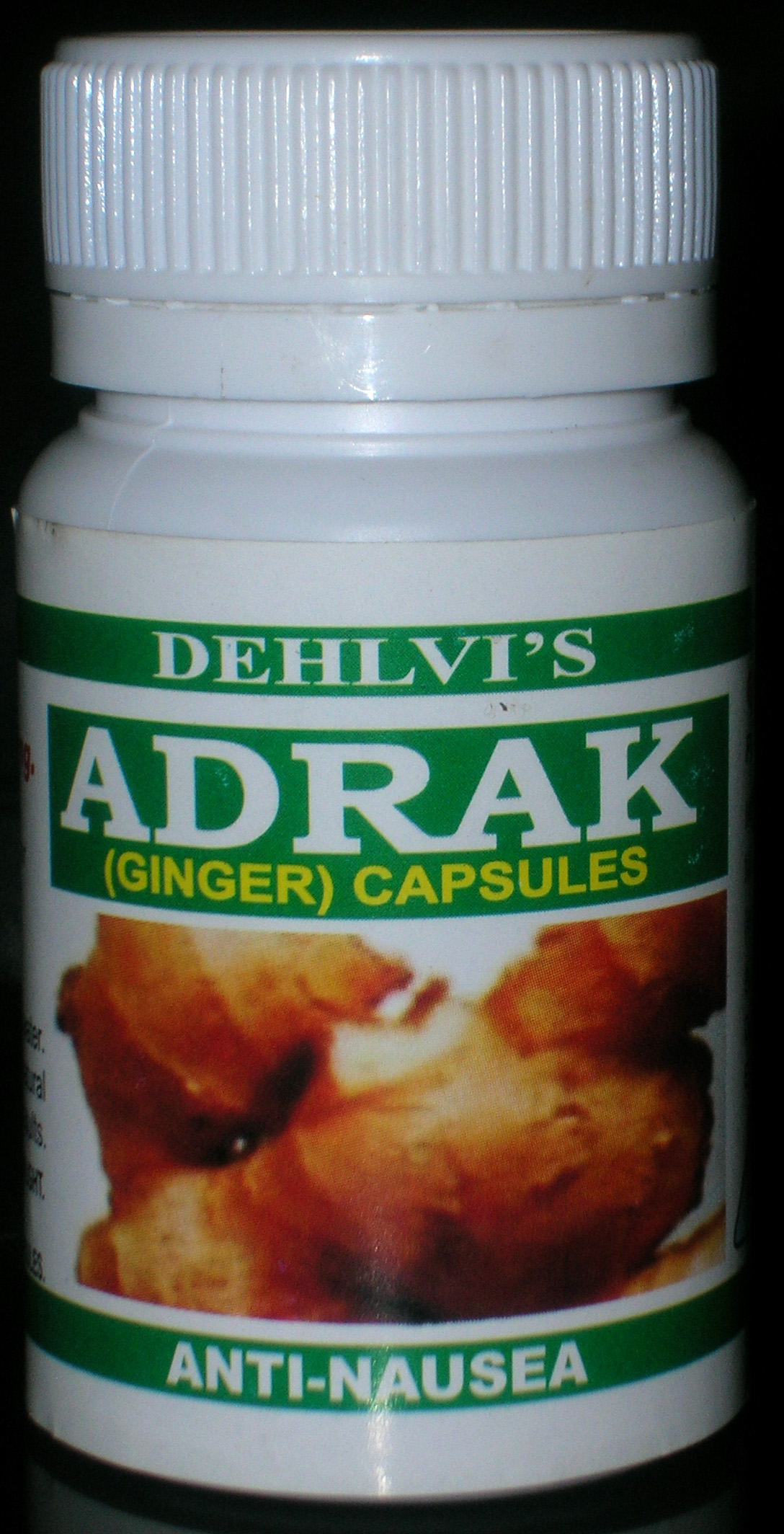 PRODUCT DESCRIPTION: Ginger has been in medicinal use for thousands of years. Ginger is valued in medicine as a carminative and stimulant to the gastrointestinal tract. It is antiemetic and therefore brings relief to digestion troubled by travel sickness. It is much in vogue as a household remedy for indigestion, wind, diarrhoea, dysentery, flatulence, colic, nausea, vomiting, spasm and it strengthens memory.
It is soothing for cold, cough, asthma, flu and other respiratory problems. Ginger is thought to reduce cholesterol levels. It heats the joints and is therefore useful against gout.
Ginger stimulates the circulation, and helps blood to flow to the surface, making it an important remedy for poor circulation to the hands and feet. It also increases sweating, and helps reduce temperature in fevers.
COMPOSITION :
Each 500 mg. capsule contains:

Zingiber officinalis Dried Extract (7:1) (Sonth)

100 mg.

Zingiber officinalis Powder (Sonth)

400 mg.
INDICATIONS : Amnesia, arthritis, asthma, bloating, burning sensation in the chest, chilblain, colic, common cold, cough, diarrhoea, dizziness, dysentery, dyspepsia, erectile dysfunction, fevers, flatulence, flu, gastritis, gout, headache, hyperlipemia, indigestion, lack of appetite, migraine, nausea, premature ejaculation, rheumatism, rheumatoid arthritis, sexual debility, spermatorrhoea, travel sickness, vertigo, vomiting and wind.
CONTRAINDICATIONS : Although Ginger prevents vomiting, it should not be taken for morning sickness. People with gallstones and peptic ulcers should avoid it unless their doctor approves. Do not use if anti-coagulants are being administered or during pregnancy.
SIDE EFFECTS : None
DOSAGE : Take 2 capsules twice daily after meals with water. Allow several weeks for benefits. The use of natural products provides progressive but long-lasting results.
DIETARY ADVICE : Avoiding alcohol, eating small meals, and avoiding irritating odours such as perfumes, smoke or fuel can prevent nausea. If the nausea is due to morning sickness during pregnancy, eating crackers and avoiding fatty foods can help.
PRESENTATION : In packs of 60 capsules.