Humdard Rooh Afza Sharbat
Humdard Rooh Afza Sharbat . Benefits , Price  & etc
Introduced In 1907, Humdard Rooh Afza Sharbat Is A Fruit-filled, Friendly Punch Which Is A Perfect Treat On A Hot Day. It Has Been The Country's Favorite Drink For Generations.
The Flavor, The Fragrance And The Color As Well As The Goodness Remain Unparalleled Even After 100 Years Of Its Creation. Hakim Hafiz Abdul Majeed's Brainchild, It Is A Cool Blend Of Herbal Ingredients. A Refreshing Concoction, Roohafza Is A Thirst Quencher And A Great Additive For Mocktails And Desserts. Besides Cooling, It Is Also Nutritional And Maintains As Well As Adjusts The Body's Water Level.
 Is a Non Alcoholic Concentrated Squash.
Summer Drink Of The India  Syrup ROOH AFZA is more than a cold drink. A blend of pure crystalline sugar, distilled natural extracts of citrus flowers, aquas of fruits, vegetables and cooling herbal ingredients, ROOH AFZA's cooling effect is long lasting for it not only instantly quenches the thirst but also rapidly cools the entire system and gives back the body the vigor, vitality and freshness depleted by excessive heat.
Ingredients In Rooh Afza Sharbat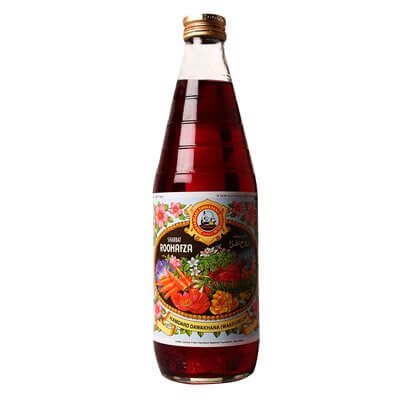 Rooh Afza Includes Herbs, Fruits, Veggies, Flowers, And Roots. The Relaxing Properties Come From These Special Components, They Key Components Of This Chilling Drink Are Following-:  Herbs: European White Lily (Nymphaea Alba), Lotus (Nelumbo), Purslane/tukhm-e-khurfa (Portulaca Oleracea Seeds), Blue Star Water Lily ( Nymphaea Nouchali), Chicory (Vitis Vinifera), Borage And Coriander.
Vegetables: Mint, Carrot, Spinach And Luffa Aegyptiaca.
Fruits: Watermelon, Citron, Strawberry, Pineapple, Apple, Berries, Orange, Raspberry, Loganberry, Blackcurrant, Cherry, And Concord Grapes.
Flowers: Lemon, Rose, Orange And Keora (Pandanus Fascicularis).
Roots: Along With Herbs, Fruits, Flower, And Veggies, The Only Root Is Being Used In It Is "vetiver" Also Known As Khus Or Chrysopogon Zizanioides.
Roohafza Helps In Dehydration. Rooh Afza Has Crucial Minerals Such As Sodium, Calcium, Magnesium, Potassium, Sulphur, And Phosphorous, Which Makes It Effective To Deal With Dehydration, Warmth Tiredness And Increased Sweating. Because Of This, The Chilling Drink Is Ideal For Maintaining Water Balance In The Body.
Side Effects Of Rooh Afza
There Are No Side Effects In This Rooh Afza Drink Identified. There Is Lack Of Evidence Which Can Indicate That The Rooh Afza Has Any Kind Of Side Effects. However, If You Find Yourself Allergic To This Syrup Then Talk To Your Doctor And Stop Using Rooh Afza To Prevent Side Effects (If Any).
How to Use Humdard Rooh Afza Sharbat
1 – Hamdard Rooh Afza Can Be Drink Mixed In Plain Water Or It Can Be Made Into A Refreshing, Delicious Milk Shake. It Can Also Be Used For Making Ice Cream And Faloodas.rooh Afza Is A Recognized Refreshing Drink Of The East And Has Surpassed The Total Consumption Of Other Such Syrups In India  And Abroad.
2 – Flavor Sherbet, Cold Deserts, Milk Recipes And Cold Deserts Are One Of Those Things That Made Rooh Afza Well-known Globally, It Is A Healthy Natural Concentrated Squeeze Mixed With Refreshing Syrup. The Herbal And Fragrant Flavoring Quality Makes Rooh Afza To Be Used In Falooda, Kulfi, Phirni, Pudding, Kheer, Lassi And Milk Shakes.in The Month Of Ramadan (In Islam, Ramadan Is A Holy Month Of Fasting), Rooh Afza Is Commonly Used.
Humdard Rooh Afza Price in India
Rs. 125 to 135  in 700 ML.