LOVER'S OIL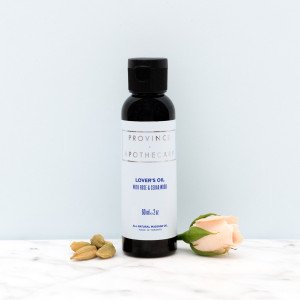 Benefits
We're bringing sexy back! This all natural massage oil is made with a blend of pure essential oils recognized as aphrodisiacs, making it a great way to have fun in the bedroom. The mixture of rose, cedar, ylang-ylang, jasmine, rosemary, bergamot, sage, vetiver and cardamon, create a sensual experience to share with your lover.
Cedar wood oil is a rich and woodsy scent. It's grounding and calming, which helps dispel negative energy. Rose is an intoxicating, rich floral scent. One of the oldest known aphrodisiacs, it helps build confidence and a sense of peace in yourself. Ylang-ylang has a heady, exotic, sensual scent. It reduces stress, anxiety and nervousness with its soothing and relaxing properties and leaves you feeling great about yourself. Jasmine is a rich, heady floral scent. It reawakens passion, uplifts your mood and builds your confidence.
Ingredients
Fractionated Coconut Oil, Sunflower Seed Oil, Evening Primrose Oil and GMO-free Vitamin E, Rosemary Leaf Extract, Bergamot FCF Oil, Clary Sage Oil, Ylang Ylang oil, Rose Absolute Oil, Cedar Wood Oil, Vetiver Oil, Jasmine Oil, Cardamon Oil. Certified Organic ingredients
Directions
Use generously and massage into skin where desired. For external use only. Do not use with latex condoms/products.