Zandu Nityam Churna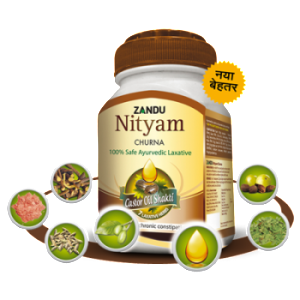 50gm – Rs.27
100gm – Rs.49
(Prices are inclusive of all taxes)
Available in all major Ayurvedic and chemist counters
Disclaimer: Duration of treatment and onset of action with the medicines depends on various factors like severity & symptoms of disease, age & physical conditions of the patient etc. Please contact your Ayurvedic Physician for more information.
[schema type="product" name="Nityam Churna" description="Nityam Churna, an Ayurvedic laxative developed by Padmashree , Vaidya Suresh Chaturvedi & panel of experts , is a revolutionary formulation enriched with 7 POWERFUL LAXATIVE HERBS like castor oil, triphala & saunf. It gently cleanses, lubricates & moisturizes intestinal walls ensuring regular bowel movements." brand="Zandu" manfu="ZNC" model="ZNC1″ single_rating="7.8″ agg_rating="676″ price="Rs.27.00″ ]
Composition:
Each 100 gm contains: Sonamukhi-50gm,Shiva-6 gm,Yashtimadhu-5gm, Saunf-9gm,Trifala-9gm, Sanchal-18gm,Erand tail -1g excipients
Dosage:
1 to 2 teaspoon (4 to 8 gm) for adults at bed time with water. Children may be given half this dosage.
Uniqueness:
1000 years of time tested solution – Castor oil shakti.