Melas Skin Cream For Eye Freckles
Melas Skin Cream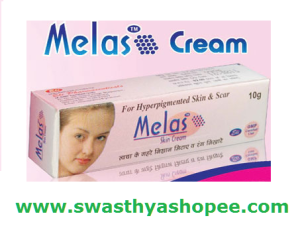 Indication:Melasma(Chloasma) Hyper Pigmented skin, Dark circles arround the eye freckles. Acne Comedones, Scars, injury Marks Burn marks, Obesity & Pregnancy Stretch marks etc.
Usage & Administration : Apply Melas Cream on effected area at night & get miracle effect. Regular use of Melas Cream clear the scras .
[schema type="product" url="http://www.swasthyashopee.com/Products/Personal-Care-Skin-Care/Eli-Pharmaceuticals/Melas-Skin-Cream/pid-2603961.aspx" name="Melas Skin Cream" description="For Hyperpigmented Skin & Scar use Melas Skin Cream, an ayurvedic medicine for treating various types of skin problems. Melas Fairness Skin Cream for treating skin problems." brand="Eli Pharmaceuticals" model="MSC" single_rating="6.5″ agg_rating="221″ price="Rs.70.00″ ]
Precaution: 1st time Melas Cream apply on effected areas for two-five minutes . If no irritation then gradually increase the time of application upto over night and whole face.