Pregnancy Plus Omega 3 Pills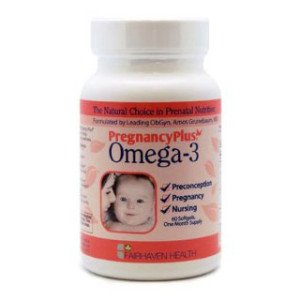 Omega-3 fatty acids are a vital part of pregnancy wellness, fetal development, and infant health. That's why Pregnancy Plus Omega-3 is designed to provide mothers and mothers-to-be with a "Just Right" amount of the Omega-3s you and your baby need! Pregnancy Plus Omega-3 is uniquely designed for pregnant and nursing mothers, as well as trying-to-conceive women looking to optimize reproductive health. Pregnancy Plus Omega-3 is molecularly distilled for maximum purity – and it offers a "DHA-Enriched" Omega-3 Prenatal/Pregnancy Formula to promote your baby's healthy fetal development and increase overall pregnancy wellness.
[schema type="product" url="http://www.discountkart.com/pregnancy-plus-omega-3/p14949.htm" name="pregnancy plus omega 3″ description="Omega-3 fatty acids are essential building blocks for your baby's brain, eyes, and heart. Scientific research indicates that Omega-3 fatty acids play a key role in prenatal, pregnancy, and early-childhood health, and are particularly central to the healthy development of your baby. " brand="Homecheck" model="PPO3″ single_rating="4.5″ agg_rating="432″ price="Rs.1843.00″ ]
The omega 3 has been extracted from the best quality small Icelandic fish and has its oil; these fish are primarily- herring, mackerel, sardines and anchovies. It also includes pharmaceutically approved EPA and DHA. Pregnancy Plus Omega 3 is molecularly distilled and extracted for purity; it is safe and well recommended. This Omega 3 supplement takes care of any lack in your dietary intake while you are expecting or trying to conceive. It strengthens the reproductive system and boosts overall development in women. It is also advised for nursing mothers by doctors and gynecologists all over the world. These soft gel pills are easy to digest too.
Features
Recommended for use during preconception, pregnancy & breastfeeding.
Shown to support fetal brain development & mother's health.
Contains pharmaceutical EPA and DHA derived from small fish.
Has no sugar, starch, sodium, yeast, corn, or milk products, for sensitive stomach.
Decreases chances of premature delivery.
The development of your baby's brain and eyes.
The development of your baby's heart and cardiac/respiratory system.
Directions
Take 2 softgels a day, preferably at mealtimes or before bedtime. Keep out of the reach of children.