Durex Play Massage 2 In 1 Gel
Durex Play Massage 2 In 1 Gel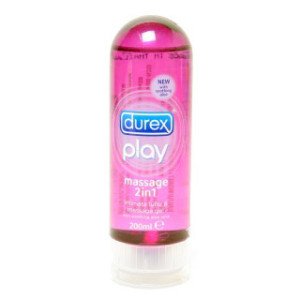 Durex Play Massage 2 in 1 Gel is water based and anti stain gel that you can easily use as a lubricant. The gel is pH balanced. It contains Vitamin E and Aloe Vera that keeps your skin smooth and gives you a unique pleasure with every touch. The gel is washable with water and is edible. It has a pleasant sweet taste.
[schema type="product" url="http://www.discountkart.com/durex-play-massage-2-in-1-gel/p11454.htm" name="Durex Play Massage Gel" description="Durex offers you a light, water-based massage gel that also works as an intimate lubricant. The non-greasy gel makes every touch sensual and takes pleasure to all-new level. It contains Vitamin E that makes skin soft and supple. It contains Aloe Vera. " brand="Durex" model="DPMG" single_rating="4.5″ agg_rating="332″ price="Rs.534.00″ ]
The gel can be used with condoms. It also can be eaten as it is edible and causes no harm. It can ease vaginal dryness and create sensual sensation between you and your partner. It is easy to rinse with water and is suitable for vaginal, anal and oral sex.
Reviews : Durex Play Massage 2 In 1 Gel